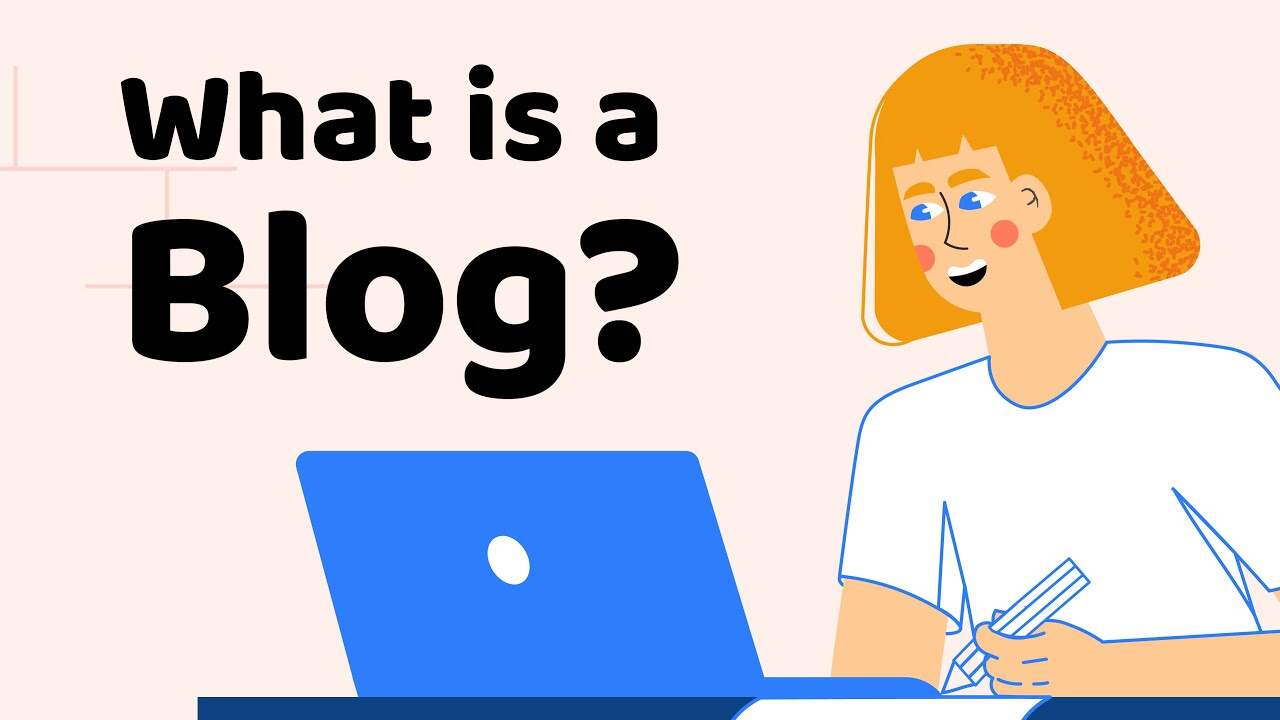 In this digital age, you may have come across the name blogs. Blogs are any write-up that can be described as digital journals, like in journals you write about your personal experiences. Blogs are just written content that is available digitally. A person can write blogs about their daily chores, activities, or projects that they are currently working on. Right now there are currently more than 600 million blogs on the internet. Even now what you are reading is a blog. 
In this blog you will get to understand all about blogs, how are blogs different from websites? What is blog?  How do all the business websites have a blog section in them? How do blogs help businesses grow?  In this write-up, we will answer all your questions regarding blogs. So let us get started. 
What is Blog? | Definition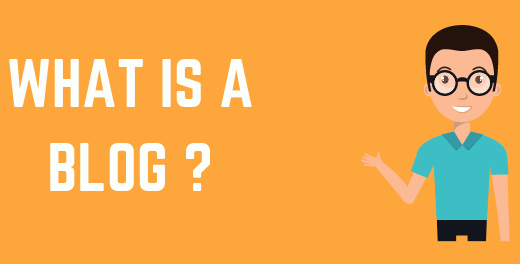 Blogs are informational sites that are present on the internet. The sites include information about various topics, and the writing style of blogs is similar to a diary or a journal. These posts are structured in reverse order, from last to first. Prior to 2009, blogs were usually written by a single person or sometimes a small group of people. However, this changed after 2010, Multi-author blogs(MAB) came into action.
In the case of MAB, the authors were specifically editors, or domain experts who would join together and write their opinions on issues. MAB became popular and many media outlets, think tanks, and newspaper channels started posting MABs which gained them a significant number of traffic. However, the introduction of Twitter and other microblogging platforms allowed the single authors to post their views which got included in many newspaper articles also. 
Blogs contain information about topics such as Religion, science and technology, political debate, sports achievement, etc. Then there is personal blogging where an individual posts about their day-to-day activity. This is done form connecting with people or other bloggers. In a way, blogging is just like posting content on social media platforms. They produce content for engaging with people and gain popularity. 
Now, if you are wondering, "What is blog?" in terms of business, its meaning can be associated with content generation for social media platforms. They can be used in promoting any kind of service or product for a business, most of the business websites nowadays include a page of blogs. You can also write information about some topic or some of your past experiences to educate people, this can be posted on a regular basis on platforms like Facebook or Instagram.    
History and Origin of Blogging 
Well, blogs are informational posts that are present online. It was called a weblog by Jorn Barger, he had coined this name for the first time in December 17, 1997. Then after some years, Peter Meholz came up with a short-form blog other than using weblogs. By the word "weblog" he meant "We Blog". 
After that Evan Williams, when he was posted at Pyra Labs started using Blog as a noun and verb, in their advertisements they started using the word, Blogger. With the introduction of the word "blogger," the term became even more popular. 
In the 1990s blogging was not that popular yet, there were many forms like that on the internet though. Like the GEnie Byte Information Exchange, CompuServe, and e-mail lists. These all had the option of posting in a conversation onto the page-like threads. Threads are meant as a series of conversions on a site. 
The first mention of blogs on site was done by Ty, Inc. One of their advertisement run on their website had a section of blogs, The name of the section was "Online Diary". This started the beginning of modern-day blogging. In online diaries, people would maintain their time-to-time activities according to dates. Many people had joined the online diary and would write on it, they would call themselves journalers, and diarists. One of the diarists who can be remembered would be Justin Hall, who started writing blogs in the year 1994 and is considered one of the first bloggers.
Evolution Of Technology In Blogging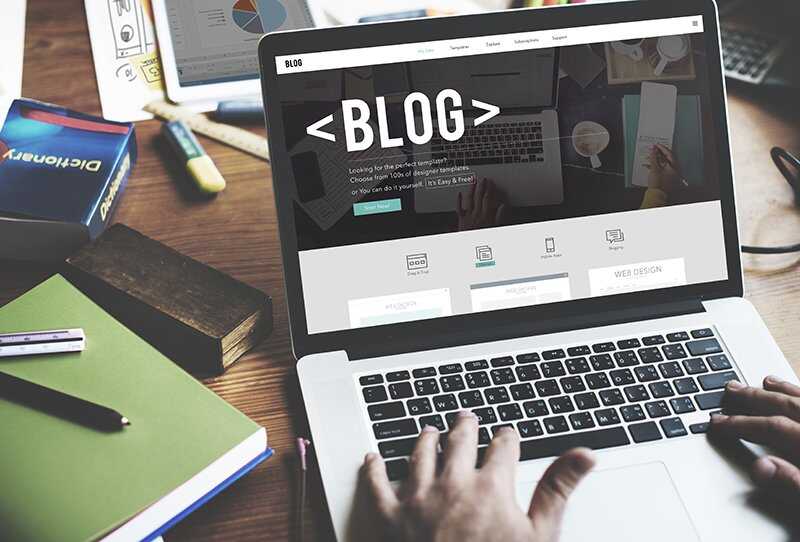 In the year 1990s with the introduction of web publishing tools, blog writing became a lot more practical. As there were web publishing tools many of the people that didn't have technical knowledge could write blogs for the web. Prior to the emergence of web publishing tools, for writing a blog meaning you should have knowledge about HTML or computer programing. Often people would be dependent on hackers or computer engineers to post their blogs. In the early 2010s, with the introduction of Web 2. O, people could now comment on a blog post and start a thread of conversation. 
When the "Online diary" was launched by Ty Inc. the blogs written over there were maintained manually. Unlike today, there were no blogging programs available back then. The arrangement of posts was also done manually by writing HTML codes on FTP software. The arrangement needed to be arranged in a reverse manner from the last to the first blog. You would maintain the process of coding regularly every day; it was a hectic process and needed technical knowledge. 
Well, the process began at the start of the day when the coder used to code each and every entry into the HTML program file, and at the end of each month, the data used to be archived Into the respective year's folder. The folders contained each day's entry in a well-structured manner. To access the recent blogs all you had to do is get to the menu on the website and click on the link mentioned over there. 
Years later with technological advancement, new software was built that could maintain the blog site automatically. This made the industry open to businesses that didn't have the technical knowledge of HTML coding. At the present time, blog writing has become a lot easier; anyone with the internet can write a blog. Blogs are available on all web browsing platforms.      
What is Blog Used For?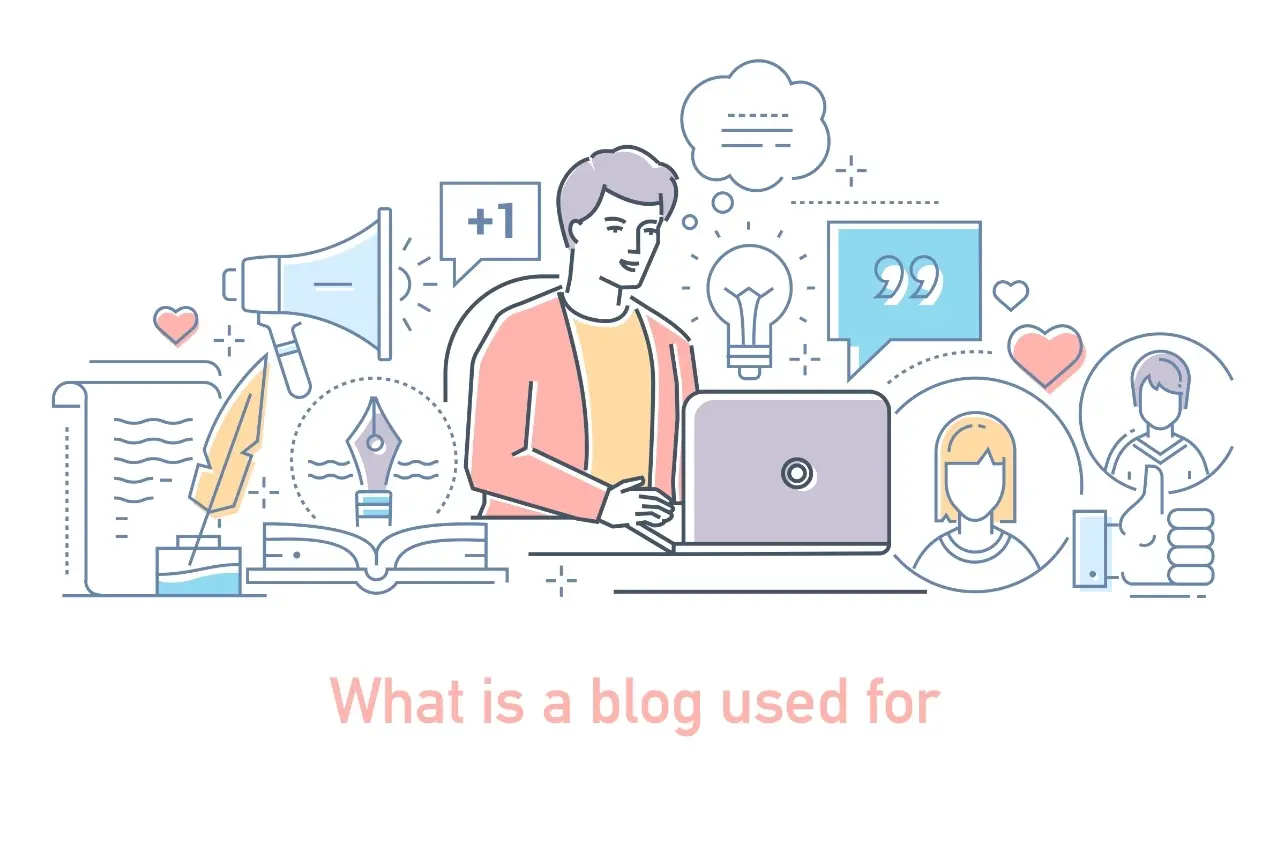 Before the start of mainstream blogging platforms blogs, blogs were usually used as personal online diaries. They were used by people to enter their personal experiences or any experience recently they had faced. In these blogs, they used to put forward their ideas about current issues that were taking place. Some of the blogs contained links to interesting images or videos. The blogs even gave people a chance to start a conversation in the comment section, this allowed the blogger to connect with their audience.
Nowadays, in this digital age blogs are also used as a marketing tool because they are used by businesses to point down important services that their business is providing. This allows the customer to connect with the product.SEO Experts often use blogs to promote products and know very well about the importance of SEO in the digital world.  When customers are trying to buy a product online the first thing they do is research about them. 
This is where business blog meaning comes in handy of business; engaging content written in their blogs makes the customer interested in their product. Blogs are also used by celebrities to keep connected to their fans. So, they constantly post about themselves, their daily chores, or upcoming movies or drama. It is also used for promoting their project as well.
With the decrease in the prices of mobile data and mobile phones, young individuals have started their video blogs(vlogs). Vlogs have become very popular now, there is a video blog about every electronic product how to use them their benefits, and all. This has helped a lot of people know about a product before buying them. Social media platforms like Youtube, Facebook, and Instagram have billions of people as their users. Vloggers use this platform to promote their channel or profile in order to gain popularity So that they gain advertisements and earn money. We listed out the major reasons why a blog is used:
1. To Share Individual Viewpoints and Start up a Conversation
Blogs provide people with a platform to raise an issue and start up a conversation around it. It can help people bring in thoughts about issues that are impacting our society and bring in change. Authors or people that are rejected multiple times by any publication or news channel can bring their thoughts and content to a wide range of audiences. Activists can start a community of people that shares the same ideology. 
2. An Opportunity for Businesses to Promote Their Products 

 
Nowadays all business use blogs on their business websites which provides information about the products or services that the business is giving out. This creates the business to connect with its customers. Some of the people searching for products online can get to see product blogs and get interested in the product. The business should apply SEO to their blogs to make their blogs come on top of Google searches. With SEO in their blog content, a business can target their target audiences with much ease.
3. Raise Awareness
Blogs can be used to raise awareness on topics and issues. Blogs can be used to influence a large set of people, and governments too. People can take up issues that are negatively impacting their life and start up a discussion on that topic. With the involvement of a large number of people, political leaders also get involved and are forced to take action. Many NGOs(Non-Governmental Organizations) work for underserved people and can start up campaigns that can gather many volunteers to help them in their projects. 
4. To Educate People on Various Topics
Many blogs contain information on various topics that can be useful. Bloggers regularly maintain their blogs by posting every day about new information regarding a particular topic. People can follow their blogs daily to get informed. If we look at David Winer, a blogger who has the longest-running blog of all time, "Scripting News". This blog meaning contains information on recent developments in the technological industry. One more example can be of, Natasha Kravchuk who shares food recipes in her blog "Natasha's Kitchen"
How to Make Blogs Interesting?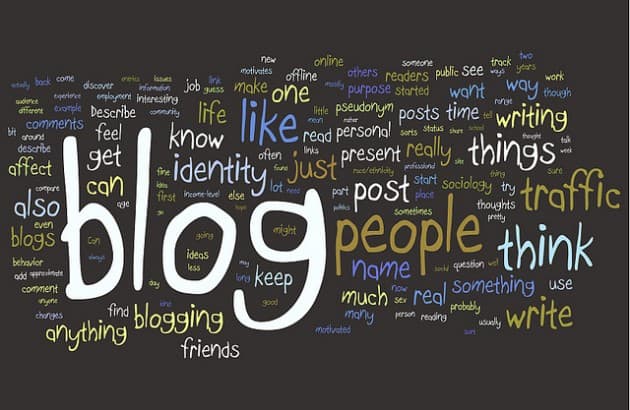 If you are interested in making your own blogs, you need to understand what elements should be present in a blog to make it interesting. However, we have put down certain points that can make a blog great:
1. High-Quality Blog Content
The content should follow the recent guidelines of Google AI which are EAT-Expertise, Authoritativeness, and Trustworthiness. The Content should be easily understandable, it should be written in a way that a 7-year-old can read it. 
2. Catchy headlines
If a headline of an article is interesting, it is more likely that a person may click on it. It is more important to have a catchy headline that catches the attention of everyone reading a blog.
3. Up-to-date content
The content present o your website needs to be regularly updated; it should not contain any information that is not relevant. When a blog is updated the chances of gaining traffic increase. The search engine treats the updated blog like a new one. 
4. Reader Engagement
There should be options present for the reader to any kind of action. Such as a comment section, a like and dislike option, and a share option. This makes the reader engage with the content and can share his viewpoint regarding the content. 
5. Smooth user interface(UI)
The blog page must have a unique web design to leave an impression on the reader. The overall outlay of the page should be easy to navigate and understand. The fonts and the overall structure should be simple and easy to read. A simple yet unique design leaves a deep impression on the reader's mind.
6. Glitch-Free User Experience
If you are individual posting blogs, you should select platforms that have strong back-end coding. The site should not have any kind of bug problem and should be accessible from your phone and tablet. If you are creating a blog for your business hire a good web developmental agency that will create the website for you.
To make your blog stand out from the rest, you need to know how to establish a unique identity for your blog. You can experiment with your blog page by using designs that resonate with the topic you are writing about. With over 600 million blogs, you need to make your own online presence and you can take assistance from any digital marketing expert or refer to successful bloggers so that you can understand what makes them different than you.
Impact Of Blogs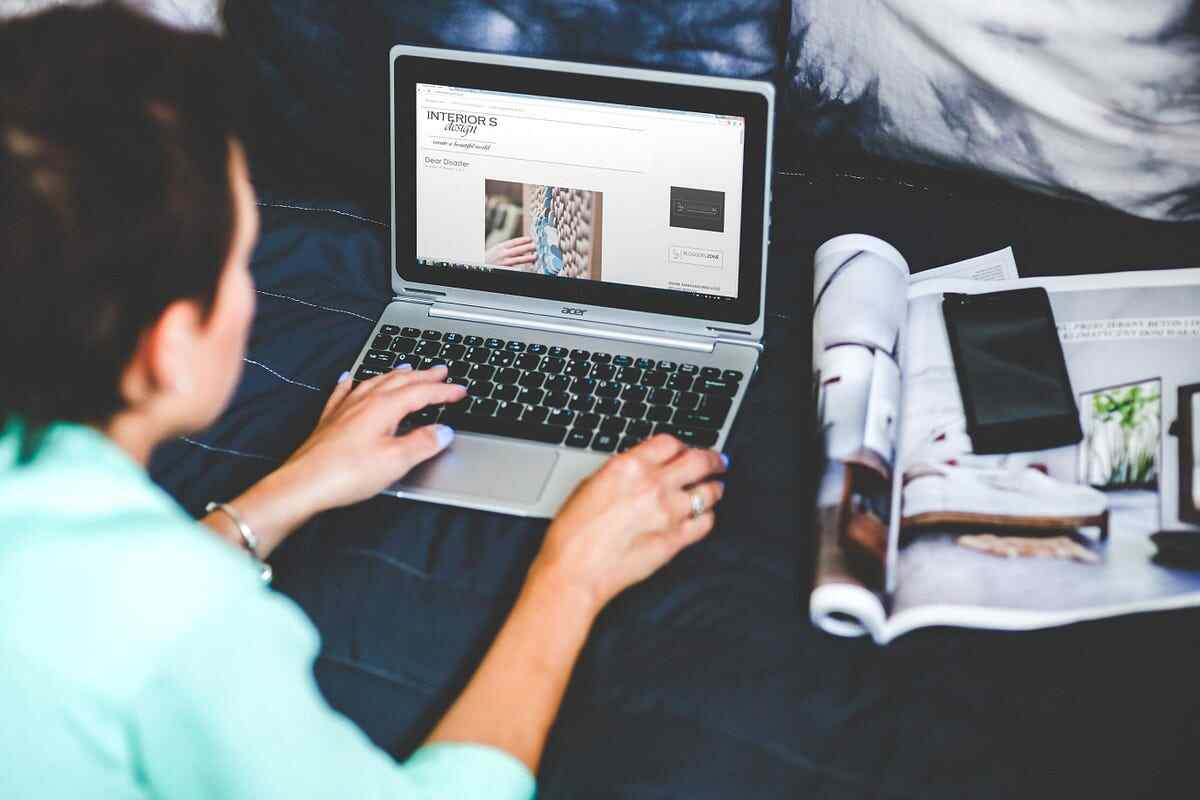 In a short period, blogs have become an important source of information. It has influenced our culture and given a new direction to some people. Blogging has made a huge impact in politics and various other sectors. Blogging has given us a new way to understand how information is received and distributed. With the internet growing and expanding its accessibility, blogging has become very easy. Any person can share his viewpoint about any issue on the internet and start up a discussion on that. 
As web browsers have become a place for people to gain information, blogging has helped a lot of people understand and know about products and services that they have not used before. Because blogs are personal experiences, people can clear their doubts about anything by reading a blog on that topic. Blogs are growing at a rapid pace.
Well, a report by Technorati reveals that the number of blogs posted has doubled every 5 months for three years straight. 70,000 blogs are posted every day. However, a small number of blogs are regularly updated, meaning a lot of the blogs have become irrelevant over time. This rapid growth has impacted various sectors:
1. Politics
Blogs on political issues are the most on the Internet. If we go back to 2004, Howard Dean, a presidential candidate used blogs as a way to reach his followers. He used to write blogs that contained all the promises that he would do if we would be appointed as the president. He used blogging as a medium to connect with supporters because he was rejected by several newspaper channels. However, nowadays many political leaders use this strategy to campaign for their elections.
2. Corporate
In the corporate world blogs are used by companies to promote their company in hopes to hire employees. Just like political leaders, business executives promote themselves and show people how approachable they are in the form of blogs. In this digital age, most company executives and VP do have a digital blog maintained. However, how long this practice will go for is not sure.
3. Blogging used in Business
Every business is now keeping a blog page on their main website that includes specifications of their products and services. Nowadays, everyone before buying a product researches about that, so these blogs help them get to know about the product. With the increase in the digital marketing industry, every product-based business uses the blog to connect with customers to know what is digital marketing ? Many product-based companies pay money to individuals to post their experiences for sharing. 
These are some of the uses of blog. Individual experience plays a huge role in attracting customers to business websites. Young individuals are now using blogging as a profession. By making a blog meaning popular people can attract a lot of traffic to their website, and by popularity, a blogger can get advertisement deals that can make them earn a lot of money.
4. Journalism 
There are fewer journalists in comparison to bloggers. Bloggers can talk about various topics that the journalist can talk about. In the journalism industry, there are a lot of barriers that stop them from writing various stories. However, in the case of bloggers, all they need is the internet, then they can put forward their opinions and start up a discussion circling that. The journalism industry is influenced by the political party, bloggers aren't. Bloggers post about relevant issues that are causing an issue for the local citizen of a country. It is better to understand a blogger's content than a journalist's.
Types of Blogs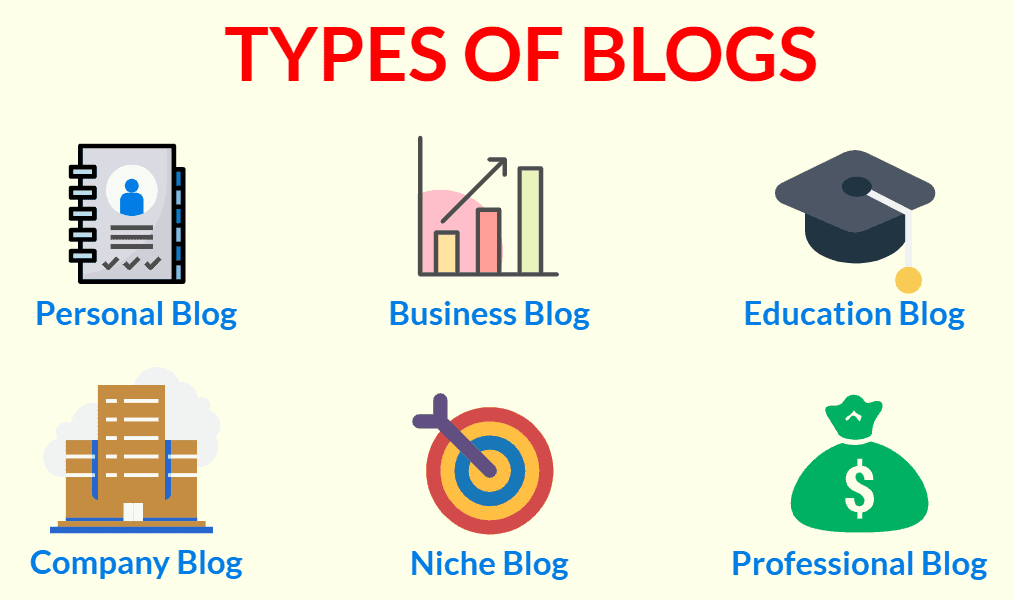 Blogs can be of various types depending on the uses of blog type of content. Some of the blog types differ in the way the information is structured. Some of them are general blogs while some are affiliate. There are some that only talk about a particular topic while some might cover a wide range of topics. Types of blogs are of the following types based on their niches and nature:
1. Personal Blogs
Personal blogs included blogs that are written by an individual rather than a group of people. The personal blog is about an individual's personal experience and daily activities. The blog does not feature anything about an organization or a corporation. The traffic on a personal blog is very low, only relatives or extended family members read their blogs. However, recently it is been seen that some of the individuals that have a massive fan following on social media platforms attract a large amount of traffic to their blogs. By which they get advertisement deals and earn money from it.
2. Group blogs 
In this type of blog, multiple authors pen down their opinions in one blog. Multiple authors consist of individuals from the political, technological, sports, or business sectors. The authors talk about the issues or challenges that our society is facing and what alternatives can be available to deal with them. As the authors themselves carry a fan following the blog automatically garners a significant amount of traffic organically. This type of blogging platform has given a great chance to those writers who like to write and cover many topics of their interest.
3. Microblogging 
Microblogging means blogging and posting about an issue in short sentences. Now, microblogging includes text, pictures, or video files to convey their content to audiences.  These can be some of the uses of blog posts. Microblogging platforms provide people an opportunity to react to certain issues and post their opinions on them. Platforms such as Facebook, Twitter, and Instagram have a massive user base, where people regularly post their views or about themselves. Microblogging is often done on community pages by the group mentioning important information regarding issues about various topics.
4. Corporate and Organizational Blogs
Corporate blogs are of two types. The first one would be the personal blogs that are only for the employees of the company. This kind of blog is used to deliver certain instructions about the company. It is often used to increase the work culture of a company, by engaging the employees in certain discussions about the betterment of the company. The second type would be blogs that are for the business part. Organizations post blogs about their services or products and explain them to the customers. These blogs are made to focus on customers rather than their employees. 
5. Aggregated Blogs 
Well, aggregated blogs allow you to see information about a particular product in one place. The individual or an organization handling the aggregate blogs combines all the blogs about a particular topic on one page itself. This helps people focus on that single topic and save them time in searching for quality content elsewhere. People can start up a discussion about that topic with people who share the same interest in the topic. 
6. Blogs by Genre
Some of the blogs present on the internet are about a single topic—political discussions or sport-related discussions. These types of blogging are popular nowadays as it allows people to learn about things and experience them. Travel blogs contain informational videos of various places on this earth. It even empowers students to showcase their talents via blogs, for example, some female students start their fashion blogs, where they explain the recent trends in fashion and inform the public. 
Many homemakers have discovered the uses of blog and started blogging about their experience staying at home and looking after the household chores. With the help of this, some of the bloggers have also started generating revenue.
7. Blogs by Media Type and Devices 
Blogs can be differentiated by the media type also. Blogs that are done via video are called Vlogs. Then there is the link log, which contains links. Sketch blogs that contain only sketches. Photoblogs are called to those blogs that contain only photos. Blogs that are made on mobile devices are called moblogs. Then blogs that are made by wireless cameras where there is no audio but only video and text added to give context, that kind of blogs are called sousveillance. These kinds of blogs are used for legal trials as a form of evidence.
8. Reverse Blogs 
As the name suggests reverse blogs are blogs that are written by the reader not the author of the blog. These kinds of blogs allow several authors to pen down their opinions related to the first topic that started the blog. Reverse blogs allow every reader to write on that blog. However, there are certain limits to the number of writers that can add to the content of the blog. This type of blogging platform gives the opportunity for all writers to showcase their talents and skills.
How is a Blog different than a Website?
Blogs are more of a personalized form of information that keeps on getting updated with time; however, that's not the case with websites. Websites give static information about a business or a person, they are not updated regularly and follow a formal tone in the information that they write. In the case of websites, the main information is present on the web pages. 
Now these web pages are not updated regularly. In the case of blogs, the information is constantly changed and contains information about various topics. Blogs are written in a way to connect to people educate them and provide them with new information on the uses of blog regularly. 
Blogs provide options for readers to take action, like providing a comments section or a like and dislike feature.  Due to these options, readers feel connected with the page. They can share their viewpoints and start up a discussion among the other readers. However, usually, on a traditional website, there are no options to comment or share your views with a like and dislike button.
Blogs can be monetized by making them subscriptions only if you have a huge fan following for your blogs. You can start a subscription plan, where people who pay can only read your content. With the introduction of Really Simple Syndication (RSS feed), you can enable the push notification option. This will allow the blogger to send notifications to its loyal readers on every post that is being made. Hence, there is a major difference between a blog page and a website.
How Can Bloggers Earn Money?
Bloggers can earn money if they can attract a lot of traffic to their blog pages, some of the blog pages have certain subscription models too which also contributes to the revenue. Usually, if a blog gets more than 100,000 views it can generate revenues. With that much amount of views, a blogger can easily get an advertisement and product promotion deals with which he can earn money. 
Bloggers can also put down some affiliate links that can take products to e-commerce pages, with each click the bloggers get a certain amount of money. For example, a travel blog named Living the Dream by, Jeremy. Earned over $4,825 in the month of January 2022. Another blogger named Adam Enfroy earned over $67,000 per month in the year 2020. 
So to earn money a blogger needs to make a strong identity virtually. You need to promote the channel in various media channels. You need to produce good-quality content that can be beneficial for the reader. With quality content, you will have a loyal readership base.
You need to choose your niche carefully to generate money out of it. Blog Some of the Blog topics may not be sustainable. For instance, in the case of travel blogs, the blogger cannot generate content if there are travel restrictions due to any disaster. When you choose a profitable niche you can earn a significant amount of money. You can even look at blogging as a career option if you can earn a lot of money.

Niche-Based Blog Generation
A lot of bloggers have started blogging full-time, with patience and quality content your blogs will eventually grow. There are some niches that can let you earn a lot of money with high-paying ad links and great promotional deals. Well, we have selected some inches that can let you earn more amount of money compared to other niches:
Insurance

: The insurance domain is the highest-paid niche in countries like America, Australia, and Canada. Within insurance, there comes car, health, and house insurance which are important financial tools for every family. This domain can allow you to earn $17.55 on an average CPC.

Online Education

: Online education market has grown a significant amount. With Covid Pandemic, schools and colleges were shut. Every educational institute had shifted to online platforms for education. Online Education is convenient and cheap. According to some financial reports published in the year 2022, the online learning market has a net worth of $243 billion.

Digital Marketing Industry

: With the pandemic, every business has shifted to the online market. To survive in that market you need to have a strong brand image, that's where digital marketing helped businesses. The industry is still growing. 

Personal finances

: Money management has been the topic of earning a niche for a long time. People want to know how to effectively save money, as financial education isn't given out in schools. Online blogs have become an integral part of learning money management. 

Health tip

: Who doesn't think about health; in this stressful life, it is very important to know about some tips that can give relief to our body. Well, lifestyle blogs are never a deal breaker. There are even sub-niches in lifestyle blogging such as skin care, health care, and overall fitness.       
How Can You Start Your Own Blog? 
Well, up until this topic we have discussed all there is to know about blogs. Its origin, uses impacts, and types. Now, we will explain how to make your own blog. There are 6 elements required to start a blog. The 6 elements required are as follows:
1. Domain Name
This is the name of your website; it goes like this "YourBlog.com". The blog name should be the main topic the blogs are about. It can be of your name as well if you are a famous personality. It is important to even find out the blog names that you want because each of the blog names has to be a unique one. You can search for a blog name by using the domain name search tool. If you can't figure out what should be your domain name, you can use AI tools that can generate a blog name for your website 
2. Web Hosting Services
You will need a hosting platform for storing all your media files such as videos and pictures. Usually, WordPress hosting is used for personal blogs that do not have much traffic. However, if you are looking for hosting platforms that have a large traffic inflow, you can use Cloud web hosting services. 
3. Blogging Platform
You need to have a piece of knowledge about content managing systems (CMS) like WordPress or any other website builder. Websites made on the WordPress platform offer bloggers full control over their website, they can customize it according to their liking. However, website builders offer a lot easier approach to websites, they have a general interface compared to the WordPress platform.
4. Quality Content Generation
Blog writing is different than writing essays or storybooks. In blog writing, the write-up should sound like a personal experience. It should contain a lot more active voice sentences. It is better to take up classes for blog writing if you want to write blogs and see it as your career. There are certain online classes up there that give training in blog writing. For example, SurferSEO's SEO writing Masterclass.
5. Theme or Template
when you are going to set up your own blog page you need to think about the theme and the template of the page, You can go for free samples that are present online. However, to leave an impact on your readers it is better to custom-make your theme. The theme should resonate with the topic you writing a blog on it makes an identity of your page. There are certain third-party theme stores such as ThemeForest where you can purchase custom-made theme designs. 
6. Blogging Tools
With AI tools on the rise, there are many tools that can be used in managing your blogs and posting them online. For instance, Trello is used for building an editorial calendar. Then there is an SEO tool named Yoast, which helps you in optimizing the website for better ranking in Google searches.
When You are starting a Blog at the beginning all you need is confidence. You need to be confident when starting your blog page; it does not matter if you are not an expert in the domain. You need to understand your readers and share information according to them. Start Blogging as if you are sharing your experience with a friend, if you think that way it will help you gain a huge number of traffic to your blog page.
Frequently Asked Questions 
Q1.  What is a blog example?
A blog is different than a website. On the main website, there is a section for blogs. Blogs contain information on various topics. Anyone with an internet connection can post their blogs on the web. Blogs are presented in a conversational manner to connect better with their readers. It is updated regularly unlike a traditional website. Blogging provides people with a platform for expressing their viewpoints on various issues that are currently happening in society—one of the important uses of blog posts.  
Q2. How do bloggers make money?
Bloggers can start earning money if their Blog page has over 100,000 views. With this much traffic to the website, advertisement deals start coming which pays a good amount of money. Many product or service-based businesses might pay you money to promote their product. Then many websites can contact you to put their website links on your blog page, and with every click you get money. Blogging can let you earn a significant amount of money, all it takes is patience and quality content.
Q3. What is the purpose of blogs?
Blogs are small informational web pages that contain information on various topics. There are multiple uses for blogs:
To Share Individual Viewpoints and Start up a Conversation

An Opportunity for Businesses to Promote Their Products   

Raise Awareness

To Educate People on Various Topics
Conclusion
If you are still wondering about, "What is blog?", then it can get you multiple benefits. It provides young students with pieces of information that textbooks do not offer. It can be used as a career option for many people who are domain experts or have an adventurous life that they want to share with millions of people. A lot of bloggers have started doing blogs as a full-time job, and they are earning a lot of money out of it. However, not all niches can let you earn money; you need to carefully select niches that are sustainable and has a massive demand among blog readers.
Blogs have become a must page in every business website. It helps companies better reach out to their customers via blogs. As the blogs contain experiences of their products or services it helps customers to better know about the product before purchasing. It helps businesses maintain their brand image. With the help of SEO in their blogs, a business can target just their potential customers. To maintain consistent traffic to your blog you have to produce quality content and need to regularly update it. To create a blog you need to first create a unique domain name and select a platform for your blog pages. To improve your writing you can always join online courses prepared by digital marketing experts.